Start an Online Business for Your Retirement
Start an Online Business and be able to retire as early as you wish.
Retiring as early as you wish by starting an on-line business of your choice is a reality. All you need is basic computer skills, internet connection and maybe a simple website.
If you don't know how to start and run a business whether online or offline and cannot go to business school or whatever, you can always take one step forward, learn something small about business, start somewhere, and you will find someone at the end of that step who will teach you the next step.
---
---
Initially it may be a slow start but sooner or later you will gain momentum.
An online business also doesn't need a lot of money to get started. The more you research and collect your right information and knowledge and skills and right network of people, the less you need money.
Go here and check out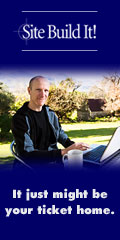 or here

---
Then you will be free to go do those desires of your heart still waiting to be manifested
Like mountain climbing
---
or just watching nature do its thing
---
---