Start a Home Business
You wanna start a home business... great idea!!
The freedom of working from the comfort of ones home is not possible to equate in monetary terms. Even words lack the depth to describe it.
Especially if you have experienced work commuting and the stress involved, or you have had crazy bosses and colleagues. Or other social and family issues.
I have been separated from my family for many years. At times we were in the same country but different towns, other times different countries and even worse different continents and different time zones.
Is this a good idea for you?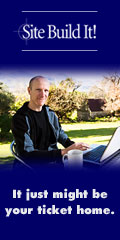 Working from home may have its challenges too:
Starting a Business from Home - 10 Steps to Success
By Julia Derby
You are thinking about starting a business from home. You can't wait to get going. These are ten steps to take straight away to make sure your home based business gets off to a great start.

Involve your family

This is a home based business so include your family from the start. Ask for suggestions, discuss possible problems and find solutions together. Get your family excited about your new home business, their support will make it much easier.

Create a working space for your home business

Every home based business needs its own space even in the smallest of homes. You need to create a comfortable and convenient area for your home business. This can range from the corner of a room to the basement to a converted closet. Whatever the design this should be your own special work space.

Complete all the basics before you open your business

There are certain preliminaries that need to be done when starting a business from home. These may include registering your home business, obtaining required licenses and permits and organizing suppliers, equipment and promotional material. You can start running your business properly from day one if you have all the preliminaries in place.

Watch expenses carefully

Keep within your budget and keep expenses as low as possible when starting your home business. Only buy what you need to start your business. New business owners often purchase unnecessary items for their start up and find it difficult to turn a profit.

Know your product or service

This is your business and you need to know everything possible about what you are selling. Do your homework and be fully informed about what you are doing. You are the expert so make sure you have all the right answers about your business.

Price your product properly

Do your research and make sure your product or service is priced fairly. Don't undersell your service or product, you want to make money when starting a business from home, but you also need to be competitive.

Plan your marketing strategy

How will you advertise your product or service and attract customers? It is important to have a plan of action in place for promoting your home business. There are many affordable options for creating awareness and getting customers - consider which will work best for your business.

Understand the competition

What can you learn from your competition? Study your competitors and find out what you can do to make your product stand out from the competition. Knowing the competition is key to a successful business.

Be prepared to be flexible

The only certainty in life is change! Be willing to adapt to changing circumstances or new situations. Your business plan and strategy cannot be cast in stone - as your business develops you will need to adjust according to what you have learned.

Stay positive

Starting a business from home takes resilience as challenges and problems occur. Stay enthusiastic and positive and you will succeed. Avoid moaning to customers about bad suppliers, high expenses or other common business problems, no one wants to do business with a dismal person.

There has never been a better time to start a home based business. Find out everything you need to know about starting a successful home business at Home Business Information and Ideas .

Julia Derby has many years experience working in small business development. She left formal employment to be a work at home mom and has successfully started and developed a number of home businesses.
Her free website My Home Business Ideas provides good ideas and practical advice for people who want to start a home based business and enjoy all the benefits of making money at home.
Free Articles provided byThe Free Library
Listen to what others have to say about the freedom and joy of working from home:
"When you first start, you think... "Ok, maybe I will make some extra money". I never really thought that Solo Build It! would help me "Live my life like I mean to live it"."
~ Luisa Cupeles
viequestravelguide.com

"I now have a business that I can grow over the years. A business that is fun. I'll never do a 9 to 5. I'll always own my own life. That, more than money, more than learning about the Web, more than anguilla-beaches, more than learning how to write well, that is the most important thing I've learned from Solo Build It!. Own your own life. If you don't, what's the point?"
~ Nori Evoy
Anguilla-Beaches.com

---
Have A Great Story About This Topic?
Share it with us here!
---